Are the Gospels Really Accurate? Here's How to Know Without a Doubt!
We all want clarity about Jesus and the gospels. There is an ongoing research for details (theologians), an ongoing curiosity among the public and an ongoing need among Christians for clarity about the basics of the faith. It is time for a new and up to date story about Jesus and his words. After reading the book, you will:
Read the gospels with new interest and understanding.
Speak with conviction about the gospels.
Know how the spoken word was presented in the books.
Say No to the oral tradition prior to the gospels.
Understand that the gospels form the Testament of Jesus: reports were written before his death, and published in books shortly thereafter.
Know that you have discovered the real story about the gospels.
LOOK INSIDE
What about the Actual Words of Jesus? Are They the Lost Sheep of Theology?
There is a permanent question whether we possess the original words of Jesus. Are they products of a long oral preaching of the apostles? Or, what else…? It is time to read carefully what the gospel writers themselves have said about Jesus' actual words. It is high time to hear the other side of the story. Reading the book, you will:
Be surprised that unknown texts come to live.
Learn that outdated doctrines are no answers for the gospels.
Know how the Oral Tradition has been imposed upon the Christians by mistranslations.
See that the actual words of Jesus cannot be missed in Christian lives.
Understand that there is a new concept with the potential to explain gospel details.
Learn things you never heard of.
LOOK INSIDE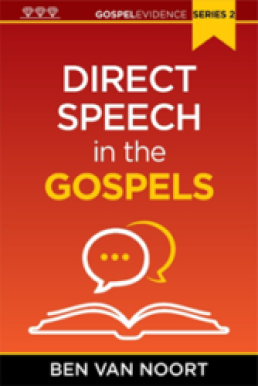 What if the direct speeches in the gospels present the actual spoken word? What if the gospel writers had a better system for quoting?
Traditionally there is a rather obscure opinion about the gospels. They would be results of an oral tradition: memories about Jesus. There has never been a serious research for the option 'documentation of the spoken word' by skilled writers. However, the crown texts are quite clear about that. This book will help you to:
Learn about the skills of the professional reporters.
Discover the answers on the questions above and many more.
Understand the quotation system and how accurately it worked.
Feel the original power of the gospels.
Discriminate between 'similar stories' through direct speeches.
Say honestly: "Yes, we possess the actual words of Jesus."
LOOK INSIDE